DISCOVER LIEBESKIND AS OF NOW IN MÜHLSTRASSE 1, IN THE NEW S.OLIVER BUILDING.
Liebeskind Berlin
2 for €10
off selected small leather goods
02/05/2019 - 31/05/2019
Enjoy 2 for €10 for selected small leather goods like key chains, mobile cases and leather luggage tags.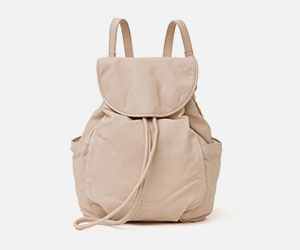 Liebeskind Berlin
€149.90 €59.90
Leather backpack
6/5/19 - 26/5/19
Get the leather backpack in the colors light powder, light sea blue and beach sand for €59.90 instead of €149.90.
While stocks last.
Liebeskind Berlin: now in Metzingen
The Liebeskind Berlin Outlet in Metzingen offers you a sophisticated, cool and relaxed atmosphere. The origin of the Berlin label dates back to 2003. The brand reflects its passion for leather handbags and the fondness for the capital of Germany, where it was founded by Semih Simsek, Johannes Rellecke and Julian Rellecke. The product range includes bags, purses, accessories, jewelry and ready-to-wear collections. The Berlin label works only with high-quality materials which reflects, among other things, their philosophy. Many great products of the label can now be found in our Liebeskindoutlet at OUTLETCITY METZINGEN. Of course you can enjoy reduced outlet prices and discounts of up to 70%.
Liebeskind Outlet – cool, international, Berlin
This company lives according to its value: "We live and love Berlin". The heart of the label is located in Friedrichshain Berlin, directly on the Spree river. There, not only the first design ideas are developed, but also implemented directly. Designed, sewn, quilted - and always on the pulse of the time. The label is distinguished by its leather handbags. Since 2012, casual collections for women's outerwear, eye-catching eyewear, shoes and since 2015 watches and jewelry collections have followed; all of them inspired by current trends that you will find in every Liebeskind store.
Discounts at Liebeskind – Berlin
The Berlin-based label Liebeskind settles in the middle to higher price segment. The story of the Berlin label is a true success story. One reason for this is, among other aspects, the constant relevance of the label. The co-founder and Managing Director Johannes Rellecke regularly attends fashion shows and events. Whether it's a vintage look or a fancy mix of materials, the co-founder is interested in the fashion world and puts this interest into his collections. In addition, the label is inspired by the lightness of the Berliners and their way of life. The Berlin label stands for spontaneous, freedom-loving and unconventional people and convinces its customers with a diverse selection of products for a complete outfit from top to toe.
Read more
Liebeskind-Berlin Outlet Store*
Mühlstraße 1
D-72555 Metzingen
T +49 (0) 7123 9769489
| | |
| --- | --- |
| Mo-Fr: | 10:00 - 20:00 Uhr |
| Sa: | 09:00 - 20:00 Uhr |
*LIEBESKIND GmbH// Stralauer Allee 10-11 // 10245 Berlin