DISCOVER THIS BRAND IN THE NEW ENZIAN HÖFE AREA.
Zwilling
up to -80 %
on selected items
From 03/08/2020
Get up to -80 % off the retail price on selected items.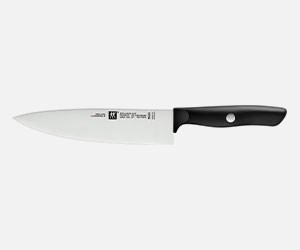 Zwilling
€ 39.95 € 19.95
Chef's knife (20 cm)
13/07/2020 - 19/07/2020
A sharp knife is every cook's best friend: From 03/08 – 09/08/2020 ZWILLING offers this chef's knife (20 cm) exclusively for only € 19.95 instead of € 39.95 RRP.
ZWILLING J.A. HENCKELS. More than 280 years of quality without bounds
The white "TWIN" symbol on a red background is today an expression of a sophisticated lifestyle. Whether high quality kitchen products, cutlery or beauty instruments: the unique success of one of the oldest brands in the world is based on customer satisfaction, which crossed national borders at a very early stage. The products are innovative and, to this day, have been setting international benchmarks, because they are always based on the customer's wishes.
In 1731, Peter Henckels registered the now world famous "TWIN" symbol as his trademark with the Cutler's Guild of Solingen. Forty years later, Johann Abraham Henckels was born, and it is by his name that the company is known to this day. And so began an extraordinary success story with its origins in Solingen, and with chapters written across the entire world – and still being written today.
ZWILLING: embodiment of quality across the world
Consistent internationalisation was encouraged from an early stage, with sales offices and branches abroad. As early as 1883 the first ZWILLING J.A. HENCKELS sales office was opened in New York by Graef & Schmidt, and in 1909 the US subsidiary was founded. ZWILLING J.A. HENCKELS became an embodiment of quality across the world. Today, ZWILLING J.A. HENCKELS' products are sold in over 100 countries. Subsidiaries, sales companies, joint ventures and strategic partnerships in many relevant markets guarantee the economic success and global competitiveness of the brand.

Throughout the world, customers are enthused by the versatility and longevity of ZWILLING J.A. HENCKELS' products. The absolute will to innovate and create outstanding quality in terms of material, design and function, has been the driving force behind ZWILLING
J.A. HENCKELS since 1731. Whether stainless steel blades, the ice-hardening procedure or the first knife with forged horizontal tang and end cap – many national and international patents are proof of the extraordinary innovative force of the brand.

Outstanding function requires excellent design. No wonder then that ZWILLING
J.A. HENCKELS' products are regularly awarded prizes for their innovative product features and trendsetting design.

Tradition, innovation, quality, design, variety and trust are values that have been closely associated with ZWILLING J.A. HENCKELS for 280 years. The kitchen – once just a work space, but today the "heart of the home" – has become a central meeting point and representative setting for a tasteful lifestyle. ZWILLING J.A. HENCKELS, under the umbrella brand ZWILLING J.A. HENCKELS AG, offers its customers a unique brand and product range, which makes modern life even easier, more pleasurable and more aesthetically pleasing.
Read more
Payment options in this store
*Zwilling Outlet Store Metzingen - operating company: Zwilling J.A. Henckels Retail GmbH | Grünewalder Straße 14-22 | D-42657 Solingen