WMF makes living and cooking an experience. The WMF outlet store at Outletcity Metzingen offers a large selection of pots, baking dishes, cutlery, glasses and more. Therefore, the WMF outlet is a popular destination for all those who are looking for high-quality kitchen products and tableware.
Therefore, the WMF outlet is a popular destination for all those who are looking for high-quality kitchen products and tableware.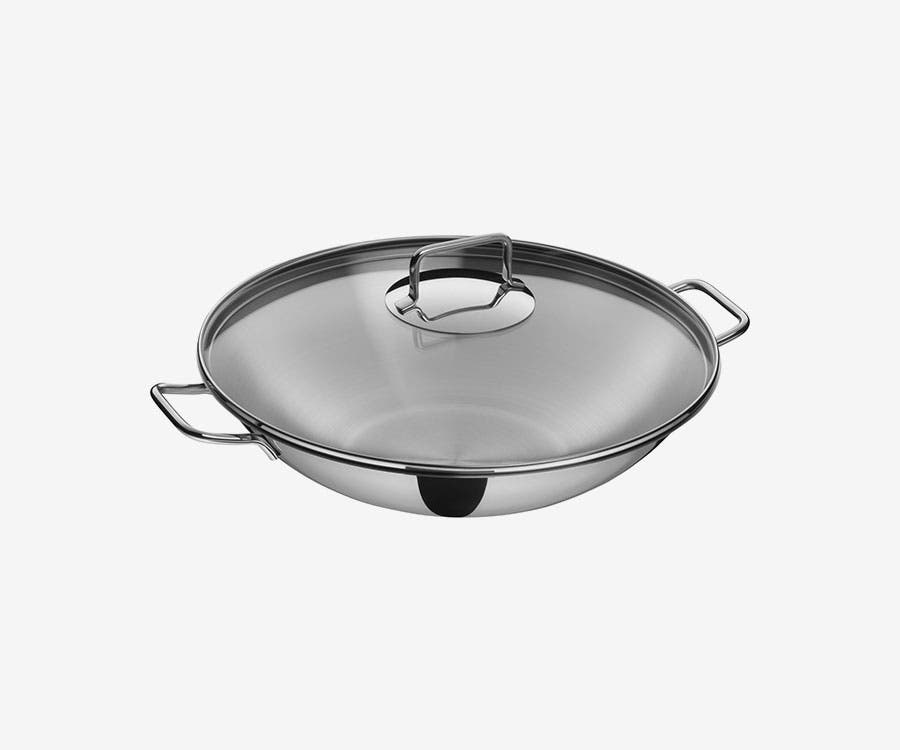 WMF
RRP € 149.99 € 49.99
WOK with glas lid
Oct 1, 2023 - Oct 31, 2023
For only € 49.99 instead of € 149.99 RRP. (RRP / Recommended retail price, if available. This offer is the lowest total price in the last 30 days)
WMF outlet: Life tastes good.
For generations, WMF products for the table and the kitchen have been esteemed for their functional and aesthetic qualities. This makes the WMF outlet in the OUTLETCITY METZINGEN a favourite destination for anyone wanting to add to their range of kitchen equipment. WMF has its origins in the metal goods factory Straub & Schweitzer, which Daniel Straub founded with the Schweitzer brothers in 1853. As early as 1862, the silver-plated table and serving implements from Straub & Schweitzer were awarded medals at the International Exposition in London. The first branch was opened in Berlin in 1868 to improve sales in northern Germany – the start of today's network of branches. WMF regularly receives prizes and awards for its unusual designs. That is just one of the reasons why the WMF outlet in Metzingen is so popular. Over two floors it offers a wide range of cutlery, glasses, pots, baking tins and much more, which all attract many customers with their beautiful design.
A long process
WMF products must undergo a long process before they are ready for sale. First of all, analyses of trends in habits, style and values are carried out. Information from various trend and styling organisations throughout Europe, market research and the company's own observations and experience form the basis on which to generate ideas. Then prototypes are developed which are equivalent to the original in material, shape, colour and function. Adjustments to optimise shape during this development process are in the tenth of a millimetre range. Five times every year, a committee consisting of marketing and product development and sales teams and the management board come together to vote on whether the WMF product should be developed further or launched on the market.
Eventful living with WMF
WMF makes cooking, eating and drinking an event to enjoy, both at home and when dining out. Great customer benefits, unique design and high quality make WMF a globally popular manufacturer of household and cookware. The focus is always on the customers' requirements. WMF's achievements are characterised by extensive expertise and reliability. Thanks to systematic investment in technology, WMF is able to extend and maintain its competences constantly. The responsible use of resources is a matter of course for WMF. All the production locations have an efficient environmental management system which WMF is constantly improving. The most up-to-date factories for cutlery, table implements, knives and coffee machines are the result.
Read more
WMF Outlet Store**
Opening hours
Address
Enzian Höfe 1
D-72555 Metzingen

+49 (0) 7123 164944


Show map

To the App
Payment options in this store
*Percentage taken from the Manufacturer's recommended retail price, if available.
** WMF Outlet Store Metzingen - operating company: WMF GmbH | WMF Platz 1 | D-73312 Geislingen