Travelling by bus
AFFORDABLE AND COMFORTABLE
Would you like to start your shopping day in Outletcity Metzingen comfortably browsing the latest fashion trends instead of searching for a parking space? Then the bus is the perfect choice for you. Whether you take the Shopping Shuttle from Stuttgart Airport or Stuttgart city centre, taking the bus is a really easy way to get to Outletcity Metzingen, and even means you get a chance to read the Shopping Guide on the way. The buses arrive and leave directly in the heart of Outletcity Metzingen. Bus tour operators are welcome to use our free bus parking lot P 3.1. after registration.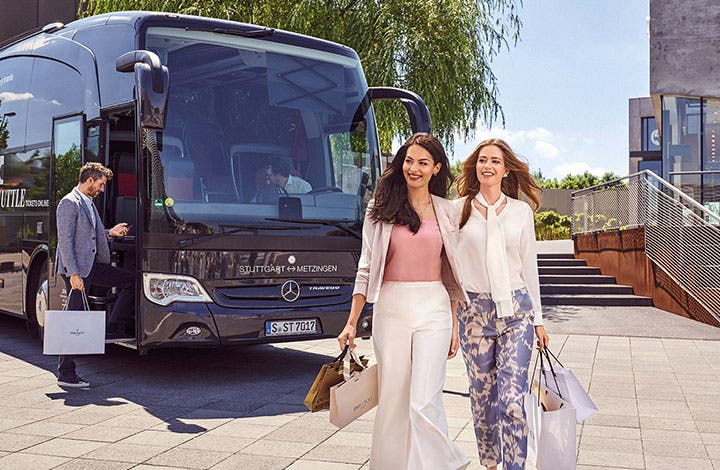 A relaxed shopping trip starts with your journey: Our Shopping Shuttle runs from Stuttgart directly to Outletcity Metzingen and back every Monday, Thursday, Friday and Saturday. Relax and enjoy the ride on our comfortable coach. You can book tickets directly online here, at participating hotels or at Tourist Information at Stuttgart Airport and in Metzingen.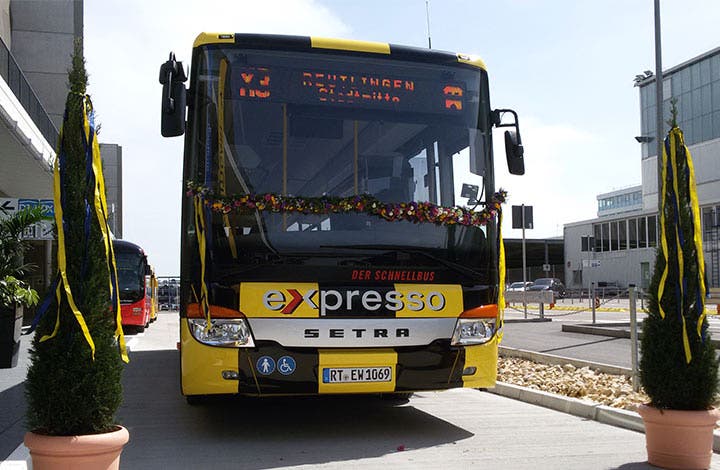 Are you staying over in Stuttgart or would you like to do some shopping before you jet off? No problem! The fast eXpresso bus runs hourly between Stuttgart Airport and Reutlingen train station. From Reutlingen station, a direct train takes you to Metzingen in just 10 minutes. You can then walk to Outletcity Metzingen from Metzingen station. If you're in a particular hurry, we recommend booking a VIP Shuttle Service before you arrive.