What happens in the Outletcity Metzingen? Get brand new details and exciting updates about the City of Fashion!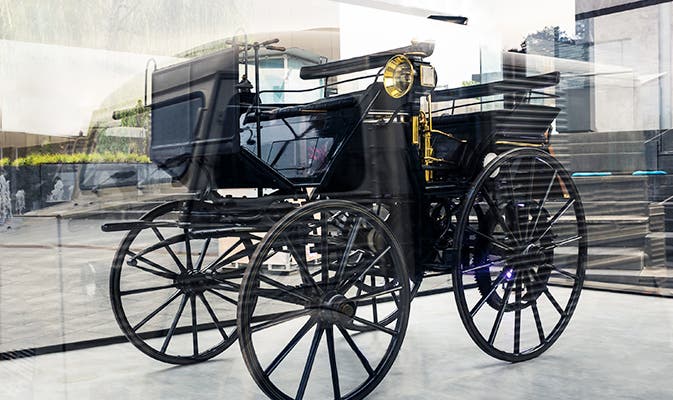 Mercedes Motor Carriage
A milestone in mobility is now at Outletcity: admire the first motor carriage that rolled out from the Mercedes Benz garage in 1886! As the first four-wheeled automobile in the world, the carriage pioneered the world of mobility as it is today.
The vehicle, developed and constructed by Gottlieb Daimler, is recognisable by the "Standuhr" (lit. grandfather-clock) motor, which got its nickname because of its similar appearance to a grandfather clock. The small and fast motor was installed by Daimler and Maybach.
Here are some more of the carriage's stats:
Cylinders: 1
Displacement: 462 cm2
Performance: 1.1 HP or 0.8 kW
Rotational speed: 650 rpm
Max. velocity: 18 kph
In order to know where you are going, you must know where you have been. For this reason, the visitors of the Mercedes-Benz Museum can experience the juxtaposition and interplay between innovation and tradition in a new way every day. Directly across from the brand's original factory in Untertürkheim, 135 years of innovation culture are on display. Over 11 million visitors from all over the world have been inspired by the exhibitions.
Experience a piece of automobile history during your visit at Outletcity Metzingen and be inspired by the pioneers of mobility at the entrance of Schwenkel Areal.
Easter-Rally on the Website
This is letter No. 2 of 6

All hints for the letter search:


Four letters can be found at our sweets specialists.
One letter can be found on our homepage.
One letter can be found hidden among our current events.