YOU CAN FIND THE TOM TAILOR STORE AT NOYON-ALLEE 4-10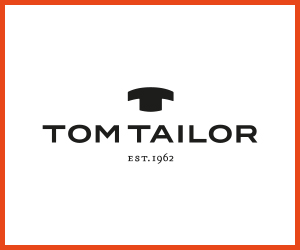 Tom Tailor
up to -70 %
on selected items
from 04/08/2020
Get up to -70 % off the retail price on selected items.
Tom Tailor
-70 %
off selected items
10/08/2020 - 12/09/2020
Enjoy up to -70% off the retail price on selected items.
TOM TAILOR – Life is a game, play it, be confident, dress in Style
TOM TAILOR is an international, vertically integrated lifestyle company which offers high-quality fashionable casual wear and accessories in the medium-price bracket for men, women, young people and children. Since the company was founded in 1962, it has emphasised a positive and untroubled attitude to life with authentic fashion. The TOM TAILOR Group develops 12 collections every year for each of its product lines MEN, WOMEN, KIDS, MINIS, BABY, Denim Male and Denim Female. With the largest collection, Authentic Urban Wear stands for a confident, modern style. This style is
defined by looks that are casual, sporty, natural and authentic – close to the heart of the TOM TAILOR
brand. Contemporary Urban Style means high fashion with a clear, unambiguous message. The looks are
self-confident, trendy, elegant, and stylish with a contemporary modern feel and less color, but made from
exceptional quality, select fabrics. College Sports delivers mostly casual clothes with sporty design
elements. This style is defined by its sportiness as well as refined washes and details in American college
style – it is fresh and colorful, relaxed and comfortable – the embodiment of the campus look.
Natural trends, seasonal colours and hip highlights reflect the distinctive core statement of the collections. They are accompanied by licensed accessories such as leather goods to complete the TOM TAILOR lifestyle landscape.
The TOM TAILOR style
TOM TAILOR fashion simply looks good and offers laid-back clothing for a natural life. Always today's look, but never overdressed. For people all over the world who live fashionably without chasing every trend. For people who feel comfortable because they have found their style.
Relaxed fashion trends in the TOM TAILOR outlet
The 400m2 TOM TAILOR outlet presents laid-back fashion at a 70% discount. The product range stands for perceptible quality with above-average performance. There is a wide range of innovative accessories to go with the WOMEN, MEN, KIDS, MINIS, Denim Male and Denim Female lifestyle collections, such as shoes, bags, leather goods and jewellery. The children's department in the TOM TAILOR outlet is unusually large and offers many different kinds of products for small children and young people. Natural, lively, and relaxed – the essential characteristics of the lifestyle brand.
Read more
Payment options in this store
* Compared to the manufacturers' former RRP if there is any.
** Tom Tailor Outlet Store Metzingen - operating company: Tom Tailor Retail GmbH | Postfach 1109 | D-46492 Hamminkeln