DISCOVER THE NEW BRAND IN THE NEW ENZIAN HÖFE AREA.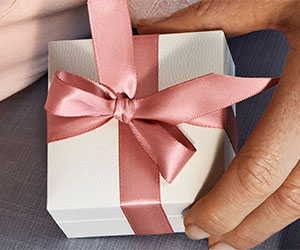 Pandora
up to -40 %
Opening offer
24/07/2020 - 16/08/2020
Enjoy additional discounts: -20% when you buy 2 products, -30% when you buy 3 products, -40% when you buy 4 or more products.
Pandora jewellery outlet – design to impress: timeless and trendy
The new Pandora store at Outletcity Metzingen reflects the characteristic delicate Pandora colours focusing on elegance and lightness. The elegant material mix of white lacquered wood and glass reflects the Danish aesthetic and invites the consumer to linger.
Pandora offers a wide range of hand-finished charms, bracelets, rings, earrings, necklaces and pendants at reduced prices. There are no limits to the imagination when it comes to expressing the personal style and giving every occasion your personal touch with the appropriate jewellery.
Pandora - an extraordinary journey of a world-famous brand
Pandora was founded in 1982 in Copenhagen by the Danish goldsmith Per Enevoldsen and his wife. Pandora has followed the unprecedented path from a local Danish jewellery store to one of the largest jewellery brands in the world, inspiring women around the world to share their unforgettable moments and express their individuality and values.
Pandora designs, manufactures and sells hand-refined and modern jewellery at affordable prices always using high-quality materials. Pandora creations are sold in more than 100 countries on six continents at over 7,500 stores, of which 2,700 are concept stores.
Pandora headquarter is located in Copenhagen, has 28,000 employees worldwide and manufactures its jewellery from predominantly recycled silver and gold in two LEED-certified manufacturing facilities in Thailand. The company plans to be carbon neutral by 2025 and has joined the Science Based Targets initiative to reduce greenhouse gas emissions across its supply chain.
Pandora. Something about you.
Every woman is special with her own facets, stories, unique moments and desires – this is what individual beauty is made of. Pandora wants to inspire women to underline their uniqueness and encourage them to tell their own stories. Pandora's vision: all women in the world should be able to purchase high-quality real jewellery at affordable prices. This creates beautiful pieces of jewellery made of sterling silver, 14K gold, carefully selected jewels, gemstones, cultured pearls, Murano glass and enamel.
Pandora is well known for its charms: In 2000, Pandora launched the brand's first charm and has since sold millions around the world.
Each Pandora charm is meant to symbolize and celebrate a meaningful life event. Pandora charms can be worn on bracelets, necklaces and earrings and, depending on mood and style, can be easily worn and exchanged every day.
Discover the Pandora store at Outletcity Metzingen near Stuttgart with permanently low prices and offers.
Read more
Payment options in this store
* Compared to the manufacturers' former RRP if there is any.
** Pandora Outlet Store Metzingen - operating company: Pandora Jewelry GmbH | Ballindamm 39 | D-20095 Hamburg