Coach is a popular brand manufacturer of handbags with distinctive design and highest quality. At the Coach Outlet Store you can find not only bags, but also small leather goods, accessories and sunglasses at discounted prices.
At the Coach Outlet Store you can find not only bags, but also small leather goods, accessories and sunglasses at discounted prices.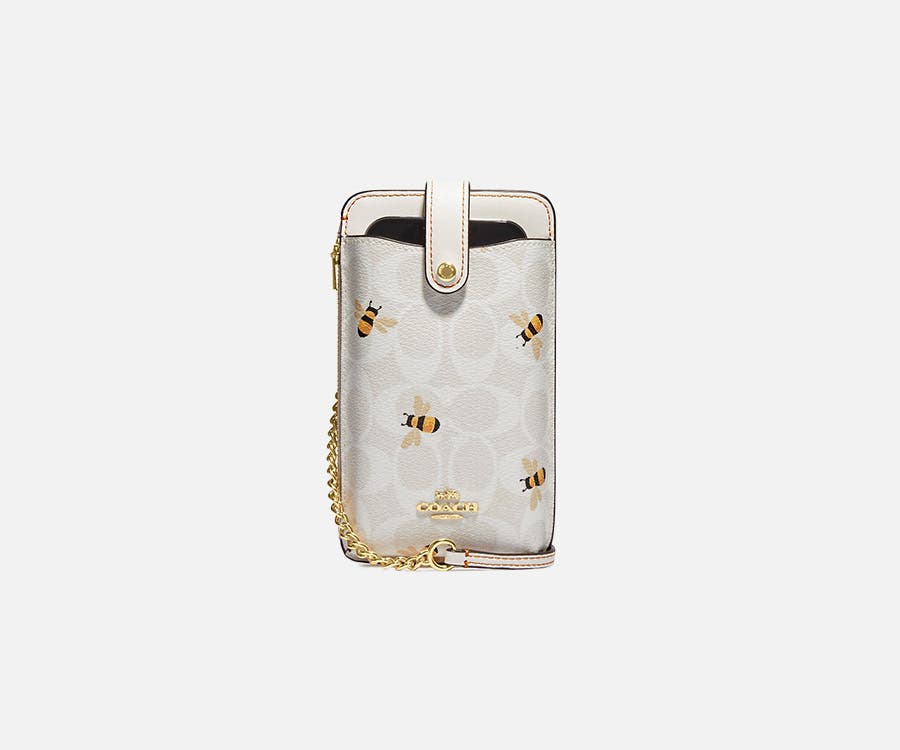 COACH
RRP € 325.00 € 69.00
Club offer: phone bag white
Exclusively on 04/10/2023
For Outletcity Club members only: Enjoy the Coach womens phone bag in white for only € 69.00 instead of € 325.00 RRP. (RRP / Recommended retail price, if available. This offer is the lowest total price in the last 30 days).
For more information about Wednesday's Finest click
here
NEW for CLUB members with gold status: Private Shopping
For our CLUB members with gold status, we enable a shopping experience in true VIP fashion. You can book an appointment up to 120 minutes long with one of our fashion experts, who will stand by your side as your advisor in an atmosphere of privacy.
More information about collecting points
Coach on the Online Shop¹
COACH BAGS – THE EPITOME OF ELEGANCE
The Coach Outlet showcases collections from one of the most famous American manufacturers of luxury handbags and lifestyle accessories – Coach is a brand of iconic status that was born over 70 years ago in a loft in New York City. The designers drew inspiration for their bags from the surface of a well-worn baseball glove. Among other things, the brand owes its popularity to the unique combination of top quality craftsmanship, innovative design and premium materials, from skilfully processed leather to select fabrics. Fashion conscious women the world over love their Coach handbags, including well-known American actresses such as Eva Longoria, January Jones and Rachel Bilson.
THE COACH OUTLET IN METZINGEN
At the Coach outlet, stylish men and women will find a huge selection of products at competitive prices. The collections have been manufactured exclusively for Coach Factory and include handbags for women and bags for men, small leather goods, accessories for the winter season and sunglasses. Footwear and outerwear for men and women complete the range on offer at the Coach outlet in Metzingen. Coach provides sophisticated, modern designs for any occasion, characterised by timeless style and the legacy of traditional craftsmanship.
THE COACH STORY
The origins of the Coach brand go back to New York City where it was founded in 1941. Initially, the family-run firm only employed six people who made leather goods for men. The owner was a keen baseball fan and, inspired by his fascination with the soft leather of a well-worn baseball glove, created the basis for all Coach collections. The products soon became hugely popular thanks to their distinctive design, premium quality, functionality and durability. One of the most famous is the iconic Coach Duffle Bag introduced in the 1970s, arousing much enthusiasm among the fashion world. Over the years, Coach has continued to launch more and more new product categories on the market, including the exclusive collections now available at the Coach Outlet Metzingen. In 2011, in its 70th year of existence, the Coach brand established itself in Europe for the first time and opened its flagship store in London. Although the brand continues to grow worldwide, Coach remains true to its aspiration for the highest quality and handcrafted perfection.
Read more
Coach Outlet Store**
Opening hours
Address
Reutlinger Straße 63
D-72555 Metzingen

+49 (0) 7123 9 724 511

Collection in WhatsApp


Show map

To the App
Payment options in this store
*Percentage taken from the Manufacturer's recommended retail price, if available.
** Coach Outlet Store Metzingen - operating company: COACH Stores Germany GmbH | Eschenheimer Anlage 1 | D-60316 Frankfurt
¹ The online shop is only available in German. Deliveries are made in Germany as well as to Austria and Switzerland.