Bogner
up to -75 %
on selected items
From 06/07/2020
Get up to -75 % off the retail price on selected items.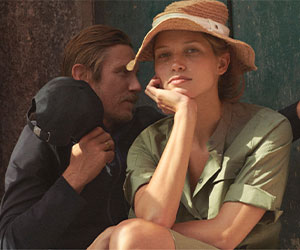 Bogner
at least 30 %
Summer Sale
from 22/06/2020
Enjoy at least 30 % off the whole summer range as well as 40 % off outdoor jackets and knitwear. This offer is valid on the current outlet price and can not be combined with any other offer or promotion. We're looking forward to your visit!
BOGNER OUTLET - Sport – Fashion – Lifestyle: A many-facetted brand
BOGNER, the sports and lifestyle brand, was founded in 1932 by the cross-country skier and ski jumper Willy Bogner Senior and is numbered today amongst the most successful sports fashion companies in the world. BOGNER clothing is synonymous with sportiness and quality, fashion and unmistakable exclusivity, to which the BOGNER outlet at OUTLETCITY METZINGEN is testament.
In addition to sporty and elegant fashion for women and men, the BOGNER sale at OUTLETCITY METZINGEN includes skiing and golf wear and laid-back collections for the younger target group. Customers looking for skiwear that offers more than just functionality are in the right place here, where the designs hold all-round appeal and yet feature cunningly fashionable details.
The collections in the BOGNER Shop in Metzingen
In an idyllic atmosphere the BOGNER outlet in Metzingen offers a fantastic selection of fashion and sports collections from BOGNER. The BOGNER SPORT luxury skiing and golfing wear brand creates a connection from sportiness and functionality to fashion and zeitgeist. BOGNER WOMAN is sporty and feminine women's fashion with effortless elegance and discreet luxury. These are complemented by the SÔNIA BOGNER designer collection – high-quality, cosmopolitan, feminine, functional and relaxed. The men's collection covers a wide spectrum, from business to outdoor. For the younger target group there is a laid-back collection which combines active wear and street fashion – BOGNER FIRE+ICE.
Outfitters for the German Olympic team
From its beginnings as a small producer in a Munich courtyard, the brand with the capital B quickly developed into an international label. Represented in over 30 counties, the BOGNER product lines and licenses cover a broad spectrum of sport and fashion. The brand become known throughout the world for sophisticated sportswear and particularly for the invention of stretch stirrup pants, dubbed "The Bogners" in the US. 1936 saw the sports brand pass another milestone: the German team wore BOGNER clothing for the Winter Olympics in Garmisch-Partenkirchen and have continued to do so to this day. In 1955, Maria Bogner invented the first ever branding: the letter B as a chic trademark on all the zips used in the label's clothes.
In addition to three prizes for perfume, the company was awarded silver for its BOGNER Ski line in the Federal Republic of Germany's Design Prize in 2000. The label received another award for its unique homeshopping publication, a combination of catalogue and magazine.
Read more
Payment options in this store
*Bogner Outlet Store Metzingen - operating company: Bogner Haus Sportmoden Vertrieb GmbH | Sankt-Veit-Straße 4 | D-81673 München