Aigner
up to -70 %
on selected items
From 06/07/2020
Get up to -70 % off the retail price on selected items.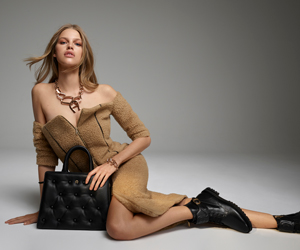 Aigner
-20 %
-20 % for new customers
from 08/07/2020
Enrol as a new customer and enjoy an additional 20 % off the outlet price.
Aigner - High-quality bags and accessories in the OUTLETCITY METZINGEN
The premium brand Aigner stands for exceptionally well-made leather goods and timeless designs. Characteristic of all Aigner bags is the small horseshoe that symbolizes the Aigner A of the German bag brand. In the meantime, the Aigner logo, with its recognition value, is a sign of quality items that you can enjoy for a lifetime. German precision paired with Tuscan joie de vivre and unique craftsmanship – this is Aigner!
Aigner bags and much more: reduced at least 30%
Are you looking for a special present or would you like to do something good for yourself? In the Aigner store in the outlet store at OUTLETCITY METZINGEN you will find not only amazing handbags but also high quality belts, purses for women or men, key chains, scarves & shawls, accessories, watches, sunglasses, jewellery, shoes, fragrances and much more at least 30% cheaper than on the recommend retail price. During the Aigner sale period enjoy discounts up to 70% – all year round. A visit to the Aigner outlet is therefore worthwhile in every season.
Read more
Payment options in this store
* Compared to the manufacturers' former RRP if there is any.
** Aigner Outlet Store Metzingen - operating company: Etienne Aigner AG | Marbachstraße 9 | D-81369 München