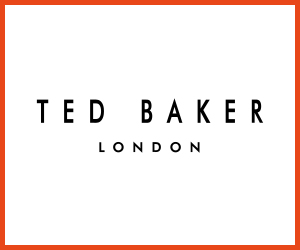 Ted Baker
up to -60 %
on selected items
from 04/06/2020
Get up to -60 % off the retail price on selected items.
Success story leads to the Ted Baker outlet
Since its foundation in 1987, the British label Ted Baker has been writing history in the world of fashion. The success story began in Glasgow, where the brand specialized in the production of shirts to become a popular name in men's wear. A few years later, the unique creations were available for ladies, too. Season after season, the fashion label has been presenting a broad selection of men and women's wear, accessories, shoes, eyewear and watches. The products are characterized by exceptional designs, soft colours, high-quality fabrics and perfect fittings, fascinating customers from all countries and cultures. Discover modern styles with an unmistakable charm in the unique Ted Baker outlet at OUTLETCITY METZINGEN!
Exceptional fashion in the Ted Baker sale
At the Ted Baker outlet you will find unique clothing at reasonable prices that will make your fashion dreams come true! Combine a marvellous Ted Baker dress with a matching coat and give your look the perfect finish with select accessories. Browse around and be inspired by the wide range of accessories: from Ted Baker shoes to eyewear and handbags. Small accessories like purses, wallets, make-up bags, watches and jewellery are also available at reduced prices. Create modern outfits with an elegant yet playful touch and don't forget to shop the perfectly matching Ted Baker bag and shoes. Ladies can choose between elegant sandals or casual sneakers, delicate shoulder bags or durable leather handbags. In addition to everyday business and casual wear, gentlemen will find stylish sneakers, sophisticated lace-up loafers and und innovative messenger bags. One thing is for sure: the Ted Baker sale offers the perfect outfit for any occasion! Visit the Ted Baker outlet to get advice and find inspiration.
Read more
Payment options in this store
*Ted Baker Outlet Store Metzingen - operating company: Ted Baker Germany GmbH| Maximilianstraße 35 | 80539 München