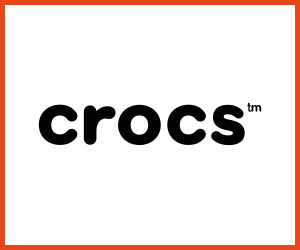 Crocs
up to -65 %
on selected items
from 03/07/2020
Get up to -65 % off the retail price on selected items.
Crocs: lightweight, practical and comfortable!
Crocs, Inc. (NASDAQ: CROX), leading supplier of innovative leisure footwear for women, men and children, offers collections with more than 250 different models to suit every lifestyle. Crocs™ shoes are exceptionally light and comfortable. There are models for every occasion and every season. All Crocs™ models are made of Croslite™, which is a patented closed-cell granulate and represents a substantial innovation in the shoe industry. Croslite™ makes it possible to produce shoes which are quiet, comfortable, non-marking, super-lightweight, non-slip and odour-resistant. Crocs™ shoes are sold in 90 countries. Every day, millions of Crocs™ fans all over the world enjoy the exceptional form, function, versatility and quality of these shoes – at work, at school or in their leisure time.
The birth of a cult shoe
When Crocs was founded in 2002, the company would probably never have dreamt that their lightweight plastic shoes with their non-slip, waterproof soles would eventually conquer the fashion industry. Originally designed for yachting, the first 1000 pairs of Crocs were presented at a boat show in Fort Lauderdale and sold out immediately. The shoes, which feature a slightly raised heel and an ankle strap, were first stocked by small shoe shops and then eventually by the large department store chains. The inventors were overwhelmed by the demand. Today Crocs are available as sneakers, ballerinas and sandals as well as in the original design. And now there is no need for Crocs fans to do without their cult shoes in the winter. Crocs now offers lined models and soft boots for the cold months. You will find a wide range of Crocs shoes for men, women and kids, and in a unisex design, at the Crocs store in the OUTLETCITY METZINGEN.
Read more
Payment options in this store
*Crocs Outlet Store Metzingen - operating company: Crocs Germany GmbH | Asterarkaden 9 | D-20354 Hamburg