MARCHÉ MÖVENPICK
in Metzingen
Opening hours
| | |
| --- | --- |
| Monday to Friday: | 8.30am - 9pm |
| Saturday: | 8am - 9pm |
Newly opened!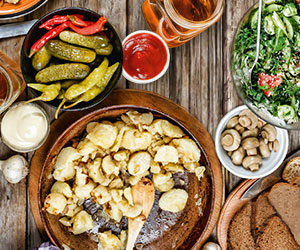 Marché Mövenpick
€18
Gourmet buffet
From 28/03/2019
Our gourmet buffet for a flat rate: Daily from 18 o'clock endless feasting from the buffet, hot from the grill, vegetarian island, pizza, Swabian specialties and dessert - EUR 18 per person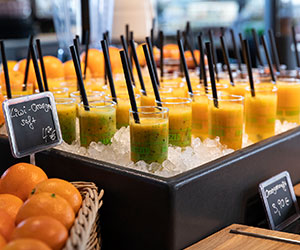 Marché Mövenpick
€9.90€6
Cocktail Special
each wednesday
Every Wednesday 6 pm to 9 pm - each cocktail for only €6.
Marché Mövenpick
FRESH HANDMADE CUISINE WITH LOCAL INGREDIENTS
The heart of the Marché Mövenpick restaurant is the modern interpretation of our local cuisine. All dishes are prepared with 100% fresh, local ingredients where the guests can watch their food being cooked live and discover their dishes with all the senses.

Cooking is celebrated at Marché Mövenpick with tender grill specialties, crisp, thin pizzas and colourful salad variations on the vegetarian buffet for fans of the meatless cuisine.
You can also enjoy fresh hand-pressed juices, light lemonades and home-made desserts in our restaurant or on our terrace.

The quality of the food has a central role at Marché Mövenpick in Metzingen. All dishes are cooked only with high-quality ingredients and without any additives. Discover new homemade seasonal recipes at Marché Mövenpick and be impressed by the fresh and local ingredients.
Marché Mövenpick*
Hugo-Boss-Platz 6
72555 Metzingen
*Marché Mövenpick - Betreiber: Marché Mövenpick Deutschland GmbH | Esslinger Str. 7 | D-70771 Leinfelden-Echterdingen