A selection of our offers exclusively for our CLUB members
Your OUTLETCITY CLUB benefits in Metzingen and in the Online Shop
Status Benefits
Get excited for a birthday gift card, reduced parking fees and much more
Coupons
Take advantage of special deals with our premium and luxury brands
Rewards
Treat yourself by collecting points and earning rewards
Invitations
You are always invited to special events and promotions
Status Benefits
Get excited for a birthday gift card, reduced parking fees and much more
Coupons
Take advantage of special deals with our premium and luxury brands
Rewards
Treat yourself by collecting points and earning rewards
Invitations
You are always invited to special events and promotions
Earn points with every purchase - Your status benefits in an overview
How it works
1
Collect points and earn status
For every Euro spent on purchases in Metzingen and in the Online Shop, you receive one point.* All you have to do is scan your receipt. Online purchases award points automatically.
To My Points
2
Coupons
Our participating premium and luxury brands offer many deals you can take advantage of through our exclusive coupons both in Metzingen and in the Online Shop.
To My Coupons
3
Redeem points and unlock rewards
Redeem your points for premium rewards – either during your visit to Metzingen or have your rewards sent to you while sitting comfortably at home.
To Rewards
Become a CLUB member now for free
OUTLETCITY CLUB
Europas No. 1 Outlet
By sales area or size - Market report "OUTLET CENTRES IN EUROPE", p.30 (March 2021) produced by Ecostra GmbH, http://www.ecostra.de/studien_und_marktberichte/outlet-centres-europe_2021-03.pdf
Zertifiziertes Outlet
According to TripAdvisor LLC, as of May 2019, www.tripadvisor.de/TripAdvisorInsights/w604
Numerous cooperations with VOGUE, GQ and GLAMOUR
Courtesy of Condé Nast Verlag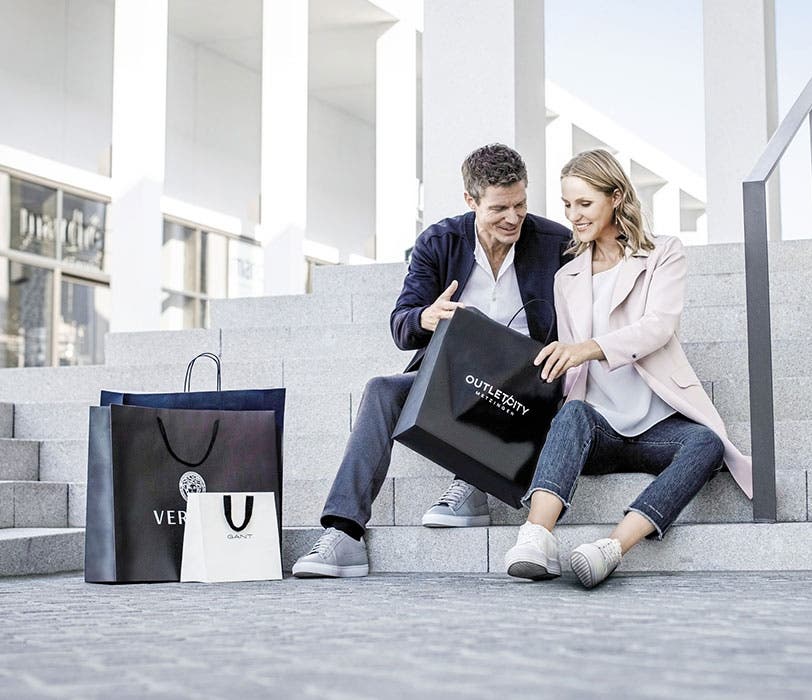 The most frequent questions & answers
Show FAQs
How much does it cost to join?
It is free to join the OUTLETCITY CLUB.
How do I register to join the OUTLETCITY CLUB?
If you want to register, you will need to download the OUTLETCITY app (available from the Google Play Store or Apple App Store). When you register on the app, you will automatically become a member. You can also register online at https://www.outletcity.com/club/. If you already have an account for the OUTLETCITY online shop, you will be registered as a member automatically when you make your next purchase from the online shop or when you log in for the first time via the app.
How do I get vouchers?
Vouchers are automatically added to your OUTLETCITY CLUB account online and on the app. You can find out about them on our website, in the online shop and in our newsletter.
What does collecting points involve?
If you are a member of the OUTLETCITY CLUB, you will collect points every time you make a purchase at OUTLETCITY METZINGEN. You will earn one point for every euro you spend.
*All purchases within the last 12 months from 26/08/2019 are considered (start of the OUTLETCITY CLUB)
Purchases in the OCM Online Shop in CHF are calculated 1:1 on the shopping purchases in Euro and rewarded 1:1 with 1 point per 1 CHF.
** Please note that receipts must be photographed and uploaded within 14 days of purchase.
¹ Simply collect points at a Club Terminal in an Outletcity Metzingen store during the promotional period or upload your receipt after shopping. You will automatically receive a one-time credit of 200 points.

PLEASE NOTE: Cannot be combined with other promotions and offers. No subsequent redemption possible. No cash refund. No resale. Only one coupon redeemable per customer. Not transferable. Valid only in all stationary stores of OUTLETCITY Metzingen.