Discover the new brand located at Reutlinger Straße 63.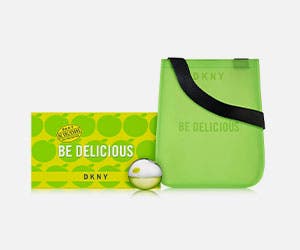 The Cosmetics Company Store
€ 44.00 € 28.16
DKNY Be Delicious
01/12/2020 - 12/12/2020
A smart treat for your senses: get the DKNY Be Delicious fragrance set for only € 28.16 instead of € 44.00 and enjoy the hopeful but also seductive flavour of the apple fruit.
Award-winning beauty brands at The Cosmetics Company Store
From premium skincare to make-up, haircare and luxury fragrances – you can find exclusive cosmetic products from top brands in The Cosmetics Company Store. With brands from the Estée Lauder Companies as well, The Cosmetics Company Store beauty boutiqueoffers an extensive selection of products for women and men. Whether you're looking for a moisturising day cream, a sophisticated fragrance or the perfect gift, you're sure to find just what you're looking for at The Cosmetics Company Store in Outletcity Metzingen. Call in and discover a wide and exciting selection of premium cosmetics at bargain prices!
The Cosmetics Company Store - best care products for every skin type
Selected brands and high-quality products for women and men promise a glowing complexion. Whether you want to smooth away the first signs of wrinkles, enhance your skin's radiance or simply pamper yourself a little – you'll be spoiled for choice at The Cosmetics Company Store.
Discover premium brands and treat yourself to top quality. The product range from the Estée Lauder brand, for example, promises innovative and luxurious products with an added touch of glamour. Nature meets science here in a selection of premium skincare for discerning customers.
The Clinique skincare range is particularly kind to the skin, with its fragrance-free, dermatologically tested formulations, making it a top shopping tip for sensitive skin too. The luxurious GLAMGLOW® face masks, Darphin facial care products with pure plant essences, Origins hit skincare made from natural ingredients and the Aveda label's environmentally-friendly haircare range also make a visit to The Cosmetics Company Store near Stuttgart more than worthwhile.
Beautiful fragrances and premium cosmetics from exclusive brands
Of course, The Cosmetics Company Store also offers exclusive aftershaves and fine women's fragrances, with names such as Aramis, DKNY, Jo Malone London and Tom Ford Beauty among the absolute highlights.
You can also find an exciting line-up of exclusive make-up brands in The Cosmetics Company Store, including
Lipsticks in a whole spectrum of shades and formulations, perfect-coverage foundations and a wide selection of eye make-up products will add the perfect finishing touches to your look. Find inspiration and create your own personal style for any occasion!
Check out the wide selection for yourself and snap up some bargains. Treat yourself to brands from The Cosmetics Company Store and buy all your beauty essentials at Outletcity Metzingen.
Read more
Payment options in this store
* Compared to the manufacturers' recommended retail price if there is any.
This brand offers products at reduced prices which are at least 20% below the "non-binding manufacturers' suggested retail price", if there is any.
** Esteé Lauder Companies GmbH | Domagkstraße 10 | 80807 München