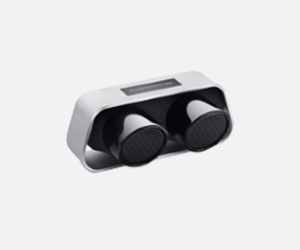 Porsche Design
€ 599.00 € 399.00
911 Bluetooth Speaker silver
by 10/06/2020
Get yourself iconic and receive the '911 Bluetooth Speaker silver' from Porsche Design for incredible € 399.00 instead of € 599.00 RRP.
Porsche Design
Contemporary. Cool. Iconic.
In 1963 Ferdinand Alexander Porsche designed the legendary 911 Sports car. 10 years later he embarked on a mission that is still driving us today - to build a company that takes the spirit of Porsche beyond the automotive, creating a new luxury lifestyle for men.
Read more
*Porsche Design Outlet Store Metzingen - operating company: PLH Porsche Lizenz- und Handelsgesellschaft mbh & Co. KG | Groenerstraße 5 | D-71636 Ludwigsburg