Look forward to extended hours from 9 am - 9 pm on Easter Saturday, April 16, 2022!
Easter delights at Outletcity for the whole family: participate in our Easter rally and enjoy irresistible offers and many surprises from our sweets specialists in Metzingen.
Easter deals from our sweets specialists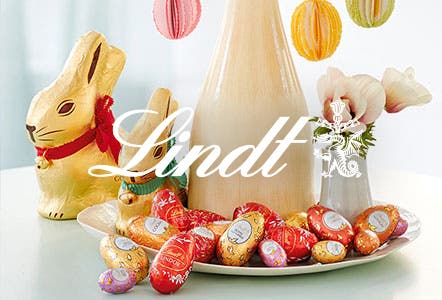 Lindt
Easter raffle:

For the 70th anniversary of its gold bunny, Lindt is giving away 7 x € 10,000. All you have to do is find one of the 7 promotional Lindt chocolate gold bunnies in the stores across Germany. More details in store and at https://www.lindt.de/aktionen-und-gewinnspiele/70jahregoldhase

Easter highlight:

Our little guests can have their picture taken with an XXL bunny from 08/04/2022 at our photopoint on the Lindenplatz. Keep the best memories of Easter at Outletcity.

Easter offer:

During the whole month of April, receive fine Mini Pralinés 180 g for just € 5.99, from € 8.99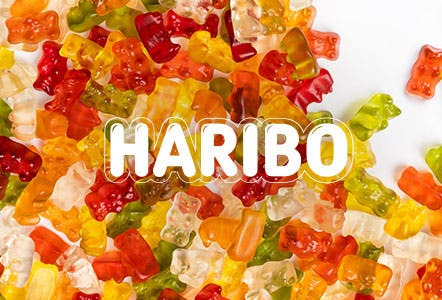 Haribo
Easter offer:

Get 3 packs from the Easter assortment for the price of 2 in the period 11/04-24/04/2022.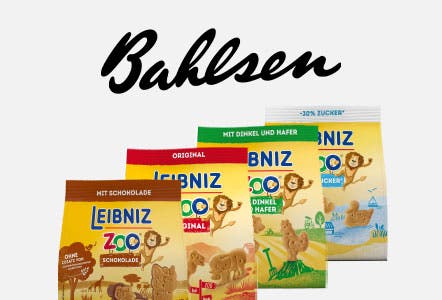 Bahlsen
Easter raffle:

Every guest will receive a ticket with purchase of sweets. The ticket may be filled-out in the store and deposited into the raffle box. Prizes range from € 10 to € 100.

Easter offer:

Get an Easter bag with Leibniz & Bahlsen cookies for just € 15.99, reduced from € 23.09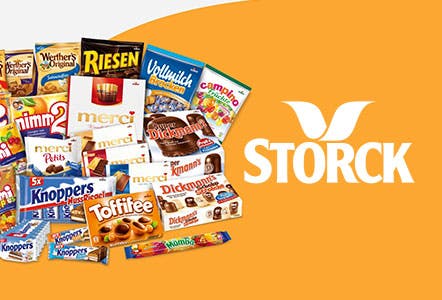 Storck
Easter highlight:

Starting at a minimum purchase value of € 15, you will receive two merci whole nut chocolate tablets in whole milk almond and white almond

Easter offer:

Get "merci Finest Selection – Große Vielfalt" 400 g For just € 3.99, from € 4,65 (MMRP)
Tips for the Easter-egg hunt on our website:
Valid in the period 08/04 - 18/04/2022


Four letters can be found at our sweets specialists.
One letter can be found on our homepage.
One letter can be found hidden among our current events.
Easter Rally in Metzingen & on the Website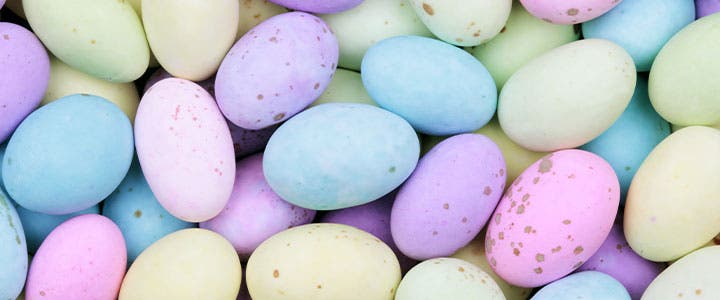 1
Find all 6 letters with easter egg print throughout Outletcity or on the Website from 08 - 18/04/2022.
Search tips
Easter at the Online Shop
-15 %** EXTRA DISCOUNT on everything from € 100/CHF minimum value from 14/04 - 18/04/2022
*Sale items excluded. Individual terms and conditions of the respective brands apply: https://www.outletcity.com/de/metzingen/vip-pass/

** Gültig vom 14.04. bis 18.04.2022 auf alle Styles | Mindestbehaltwert: 100€/CHF100 | Einlösbar in den Online Shops für die Länder Deutschland, Österreich und der Schweiz | Einlösbar im Warenkorb | Der Gutscheinwert richtet sich nach der gültigen Landeswährung in den entsprechenden Ländershops | Keine nachträgliche Einlösung möglich | Das Angebot ist nicht auf frühere Bestellungen gültig | Nicht mit anderen Gutscheinen kombinierbar | Keine Barauszahlung | Kein Weiterverkauf | Nur ein Gutschein je Kunde sowie Bestellung einlösbar

***Kommen Sie zum OUTLETCITY Welcome Center auf dem Hugo-Boss-Platz 2, 72555 in Metzingen oder zum Club Counter in der City Mall. Downloaden Sie die OUTLETCITY App und sammeln Sie Punkte. Zeigen Sie Ihren Coupon Code einem Mitarbeiter. Dieser löst Ihren Coupon ein und anschließend erhalten Sie Ihren Lindt-Goldhasen.
Dieser Coupon ist nur einlösbar im OUTLETCITY WELCOME CENTER und am Club Counter in der City Mall. Nicht mit anderen Aktionen und Angeboten kombinierbar. Nur gültig von 04.04.2022 bis 18.04.2022. Keine nachträgliche Einlösung möglich. Keine Barauszahlung. Kein Weiterverkauf. Nur ein Coupon je Kunde einlösbar. Nur solange der Vorrat reicht. Änderungen und Irrtümer vorbehalten.