sigikid products have been fulfilling children's dreams for more than 40 years, accompanying and encouraging babies and toddlers in their first years of life. Discover a wide selection of high-quality baby and children's fashion as well as cuddly play ideas for babies and toddlers.
Discover a wide selection of high-quality baby and children's fashion as well as cuddly play ideas for babies and toddlers.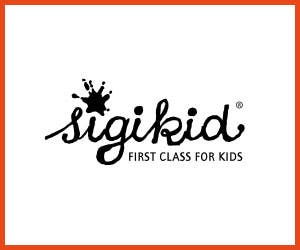 Sigikid
up to -70 %
on selected items
from 31/05/2021
Enjoy up to -70 % off the retail price on selected items.
Virtual Shopping at Sigikid
The sigikid outlet: small prices for small people
In the sigikid outlet in the Outletcity Metzingen you will find high-quality baby and children's fashion in sizes 56-128 plus cuddly ideas for play with babies and toddlers. The large selection of chic children's wear and the wide range of soft toys perfect for cuddling make every purchase an experience for children and their parents. Families in search of great products in a child-friendly shopping atmosphere are in exactly the right place in the sigikid sale!
sigikid - loved by children and parents
For more than 40 years, sigikid has been making children's dreams come true. sigikid products help and stimulate babies and children in their early years, which are considered the most important in their development. With this awareness, the children's brand from Upper Franconia in Germany develops products which meet the highest standards in terms of child-friendly design, quality, safety, satisfying play and cuddle factor. Hardly surprising, considering that children have a hand in making the decision on whether to include an article in the collection. Every newly developed product is tested thoroughly through play and subjected to plenty of experimental cuddling in small groups of future users. This approach has played a significant part in the success of the collection for many years. What's more, many parents already know from their own experience how much care and love goes into sigikid products – they had sigikid products in their childhood as well.
The world of sigikid
From baby's first day to starting school and beyond, the range of products offers cosy comfortable fashion and numerous clever ideas and accessories for games and play. Enchanting toy clocks, blankets to crawl on, rattles, teethers and much more make Baby's small world complete. Durable sigikid toys stimulate children's imaginations – from puzzles to dolls and soft toys and chic accessories for kindergarten, school and home: bags, child-sized furniture and much much more.
Read more
Sigikid Outlet Store**
Opening hours
Address
Mühlstraße 5
D-72555 Metzingen

+49 (0) 7123 9 723 10


Show map

To the App
Payment options in this store
* Compared to the manufacturers' recommended retail price if there is any.
** Sigikid Outllet Store Metzingen - operating company: Sigikid H. Scharrer & Koch GmbH & Co. KG | Am Wolfsgarten 8 | D-95511 Mistelbach