Discover the new Sergio Rossi Store at Hugo-Boss-Platz 8.
Sergio Rossi
up to -65 %
on selected items
From 02/06/2020
Get up to -65 % off the retail price on selected items.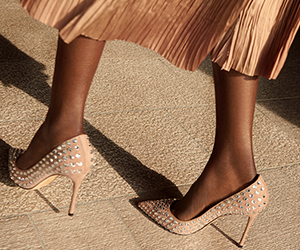 Sergio Rossi
up to -50%
Up to -50%
until 04/07/2020
Visit the Sergio Rossi Store and enjoy up to 50% off the outlet price on most items of the offered range. Please make an appointment with the store by phone or WhatsApp beforehand: +49 162 9357610
Discover Italian elegance and glamor in the Sergio Rossi store
The famous Italian shoemaker Sergio Rossi founded the brand back in 1966. The designer's passion for craftsmanship is clear in the production of high-quality women's shoes and accessories made of napa leather and fine textiles. Clean lines, subtle shapes and timeless designs characterize this luxury brand for women and give each Sergio Rossi shoe and bag their glamorous look. Especially the coveted Sergio Rossi pumps, with their slim shape and functional heel, underline the femininity and are the perfect timeless companion. Whether classic pumps or elegant ankle boots with block heels - in the Sergio Rossi outlet in Metzingen you will find Vorschlag: your perfect designer shoe at greatly reduced prices.
Buy your favourite Sergio Rossi item in the outlet at greatly reduced prices
The bags of this luxury brand are made of fine leather and give you an elegant and timeless touch. Practical shoppers and shoulder bags offer enough space and are a stylish companion in everyday business. An elegant clutch with decorative details adds a glamorous touch to your evening outfit. Your summer look is not complete without a luxurious pair of Sergio Rossi sandals or midi heels pumps. For colder temperatures, the knee-high Sergio Rossi boots in soft napa leather will enhance every outfit. Quality and luxury can also be found in many Rossi boots - whether low, square heels or super high stiletto. Sophisticated designs and the high-quality workmanship make each boot an eye-catcher suitable for everyday use.
Buy Sergio Rossi shoes and bags at OUTLETCITY METZINGEN
Clean lines with eye-catching details are the trademark of the designer, turning the Rossi shoes and accessories into timeless fashion pieces. Sergio Rossi reflects his passion for the shoemaker craft through the shape, harmony and elegance behind each product:

Discover the Italian craftsmanship and glamorous luxury items also in our Sergio Rossi online shop at OUTLETCITY.COM: there you can buy designer fashion at exclusive low prices (for shipment to Germany, Austria and Switzerland). Are you travelling to the Stuttgart area? The Sergio Rossi outlet at OUTLETCITY METZINGEN is one of the most popular destinations in the region and is well worth a visit. Save up to -70% on Sergio Rossi shoes and bags.
In a few easy steps you can create your own slippers or pumps. Pick your favourite color, material, heel and even add your own initals – the shoes will be hand made in Italy and send to your home.
Read more
Payment options in this store
*Sergio Rossi Outlet Store Metzingen - operating company: Sergio Rossi S.p.A. | Stradone 600/602 | 47030 San Mauro Pascoli (FC) Italy