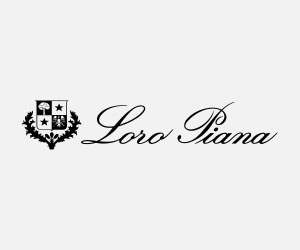 Loro Piana
Service
Individual consultation appointment
from 13/08/2020
Be enchanted by a unique service and enjoy your best-in-class shopping experience with a glass of champagne. Call our Loro Piana Store 0049 7123 9102002 to book your personal shopping experience
Loro Piana brings together innovation, tradition and quality
Loro Piana is one of the most exclusive luxury brands in the world and is synonymous with an aspirational lifestyle and the highest quality. This family-run Italian company was founded at the beginning of the 20th century and is now the largest manufacturer and supplier of cashmere, baby cashmere, vicuña wool and other very delicate wool fibres.
Now managed by the 6th generation of the family, the company is known for the outstanding quality of its products. The exquisite Italian branded clothes offered in the Loro Piana sale are made only in the company's own factories from the best raw materials in the world. The typical Loro Piana style is classic, sporty and elegant, and aimed at the most discerning clientele.
Customers at the Loro Piana outlet place value on understatement and timeless luxury. They do not buy their clothes for just one season: thanks to the outstanding quality, the classical and elegant style and select natural colours, Loro Piana customers have lifelong enjoyment of their exquisite products.
Read more
Payment options in this store
* Compared to the manufacturers' recommended retail price if there is any.
** Loro Piana Outlet Store Metzingen - operating company: Loro Piana GmbH | Maximillianstraße 27 | D-80539 München