DISCOVER OUR BRAND IN THE NEW ENZIAN HÖFE AREA.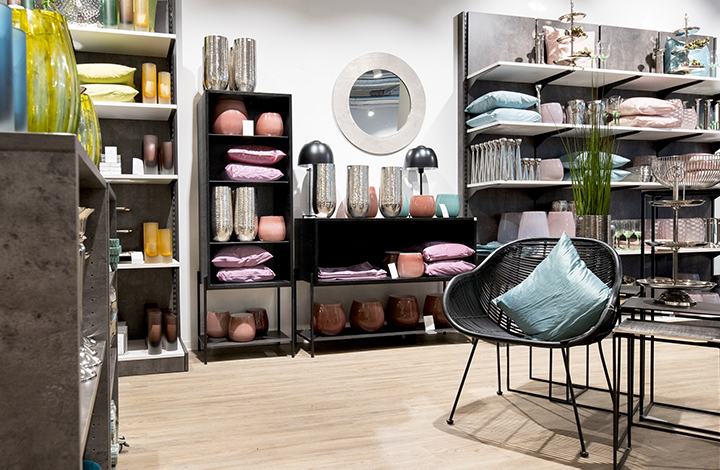 Lambert
-50 %
Selected lanterns and glasses
until 31/07/2020
Make your home even more cosy: In July, Lambert offers -50 % off selected lanterns and glasses.
Furniture and home accessories in the Lambert outlet
Founded in 1967, the brand Lambert still stands for high-quality furniture that is more than just furnishings. The company inspires all along the line with exceptional craftsmanship and a passion for detail. The many different styles and designs are characteristic of the world-famous Lambert furniture. The brand not only offers classic pieces of furniture, but also high-quality decorative items that score with style and perfection. In the Lambert outlet at Outletcity Metzingen, 30 km south of Stuttgart, you will find exclusive items at greatly reduced prices.
Traditional handicrafts in the Lambert sale
The brand Lambert creates lively furnishings with intercultural design with a lot of passion and individuality. Inspired by distant countries, traditional craftsmanship and using original materials, a holistic interior is created that inspires. The label not only focuses on cultural diversity, but also on past eras and styles. The customers are offered a special form of well-being and taken on exciting trips. The unusual design language transforms rooms into fantastic adventure cities that inspire both to discover and to relax and unwind. The Lambert outlet offers a diverse range at affordable prices.
Everyone has the need for harmony and well-being. The furniture manufacturer Lambert has set itself the task of giving each of its customers the opportunity to furnish themselves individually and not to have to resort to the everyday. Lambert furniture and accessories want to create living space that is individually tailored to everyone without constricting. If you look at the varied collections in the Lambert sale, you will recognize exactly what the label intends - personality, character and versatility in every single piece!
Harmony and individuality for your home
Transform your home with furniture from the Lambert sale into a stylish home that invites you to feel good and create new interior scenarios that inspire with home accessories made from natural materials. The exclusive pieces are almost unique and complete every room with a feel-good factor. Whether you want to search for pieces of furniture such as high-quality sofas, stylish chairs and exceptional showcases or equip your home with the perfect decorative items like soft pillows, fine cutlery and fine service plates - make your choice and let yourself inspire in the Lambert outlet near Stuttgart!
Read more
Payment options in this store
*Lambert Outlet Store Metzingen - operating company: Lambert GmbH | Konstantinstraße 303 | D-41238 Mönchengladbach