Discover the brand in the new Kids Around store at Hugo-Boss-Platz 8.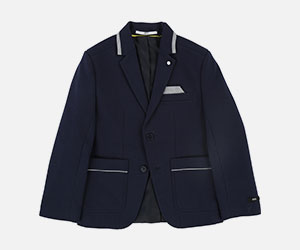 Kids around
€ 159€ 31
BOSS Kidswear Jacket
03/08 – 15/08/2020
For little Gentlemen: From 03/08 – 15/08/2020 this BOSS Kidswear Jacket is on offer at the Kids around Store for only € 31 instead of RRP € 159.
Fashion for children at low prices in the BOSS Kidswear sale in the Kids Around Store
Elegance, chic and sportiness: that's BOSS Kidswear! Since 1924, BOSS has been representing a modern, high-quality lifestyle of international reputation. The designer's strength – discreet designs and perfect cuts – are reflected in an excellent couture, for what the brand is famous for. Thanks to this competence, BOSS Kidswear offers trendy pieces of impeccable quality in minute detail. Whether suits or leisure wear: BOSS is the epitome of trendy styles no matter the occasion. Understated and stylish elegance are the key words of this historic brand.
Especially for kids, the brand adapts the classic collections for women and men (such as polo shirts, cardigans, jumpers, joggers and parkas) to create smart and sporty looks with the same perfect cuts. The "athleisure" line combines various materials with distinctive details and is characterized by rather technical sportswear with many logos. Shop now for the popular BOSS Kids pieces at low prices in the BOSS kidswear sale at OUTLETCITY METZINGEN.
Discover high-quality fashion for children by BOSS Kidswear at OUTLETCITY METZINGEN
The casual line offers sporty and authentic designs for everyday life. Discover now the must-haves of the BOSS Kidswear kids' collection at low prices in our store:
Trousers
Jumpers
T-Shirt with prints
Dressing up should be fun! Visit the BOSS Kidswear sale and discover cool outfits and matching accessories. With straight cuts and different materials, the brand creates a smart and sporty look that will make your kids look perfect no matter the occasion. In the BOSS Kidswear sale you will also find nice gift sets and birthday presents.
Fashion for girls and boys aged up to 16 years at OUTLETCITY METZINGEN
Are you headed for Stuttgart and the region? Then you should definitely stop over at the close-by OUTLETCITY – use the chance and shop designer fashion up to 70% off (compared to the former manufacturers' suggested retail price, if there is any). Shop the brand BOSS Kidswear and many other designer brands at the Kids Around Concept Store at reduced prices. Discover ready-to-wear and Mini Me-collections, shoes and accessories for girls and boys aged 0 to 16 years.
Read more
* Compared to the manufacturers' former RRP if there is any.
** Kids Around Outlet Store Metzingen - operating company: C.W.F. Children Worldwide Fashion | Avenue des Sables | ZI du Bois Joly | 85500 LES HERBIERS Cedex | France